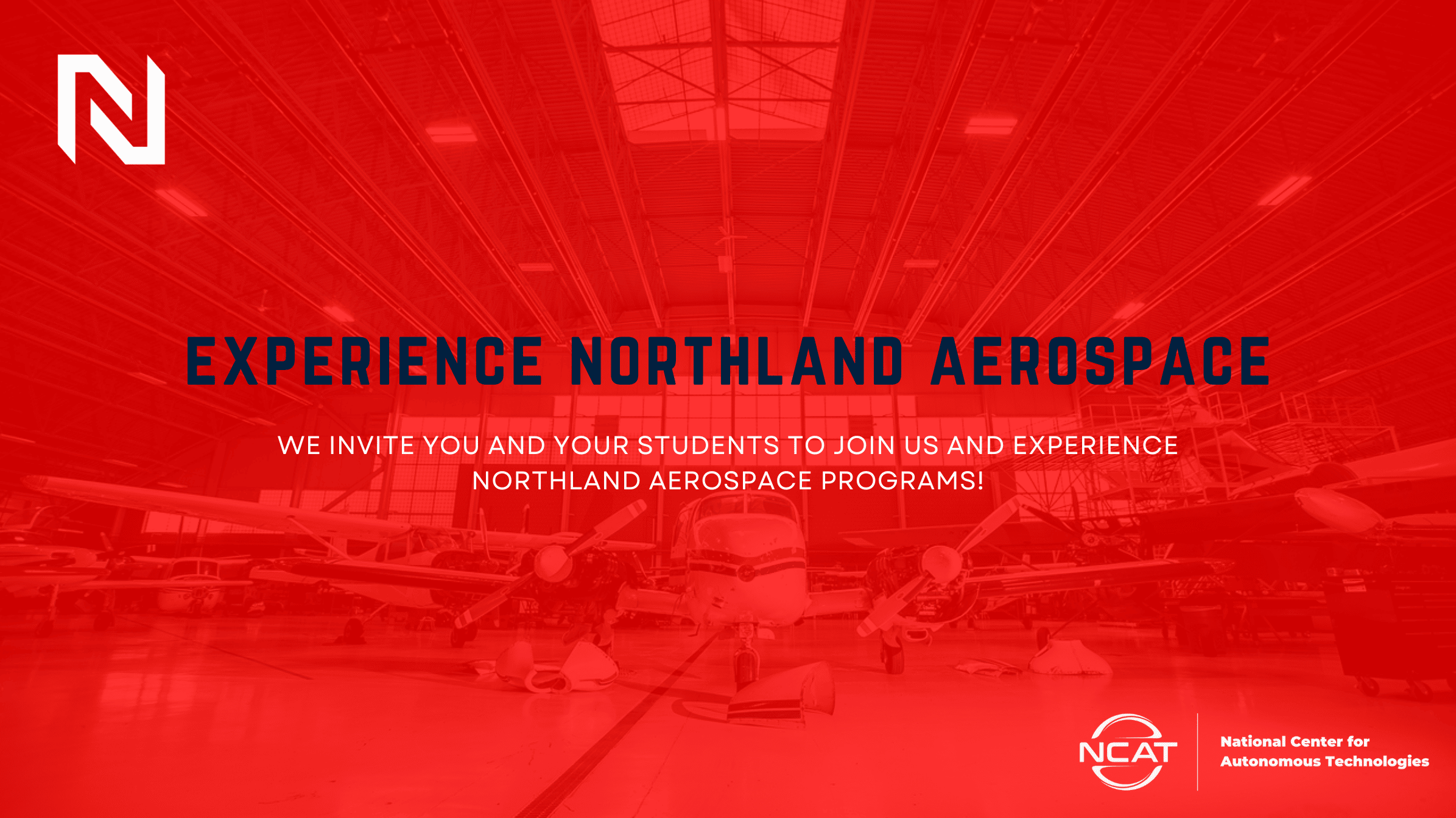 Join us on November 30, 2023 to Experience Northland Aerospace in Thief River Falls, Minnesota!

Brought to you by Northland Community and Technical College and the National Center for Autonomous Technologies (NCAT), this event is open to all students (grades 7-12) and teachers, and offers a variety of 50-minute hands-on learning activities directly related to Northland Aerospace programs. Schools/students can choose to attend one session or make it a day-trip and attend all of the sessions throughout the day.

All sessions are 100% cost-free! Register as soon as possible. Last year's events filled up quickly.

If you have any questions, please do not hesitate to contact the NCAT/Northland team directly at ncat@northlandcollege.edu.
Workshop A - Fundamentals of Composites (2-Hours) - Composites Lab
Advanced composites are becoming more and more common in a wide variety of industries these days. Once found primarily on military and commercial aircraft, materials like carbon fiber, Kevlar, and glass fiber can now be found on unmanned aerial systems, wind turbine blades, automobiles, trains, and a host of other products we see and use every day. We will conduct a 2-hour hands-on course designed to impart basic knowledge of composites materials and help students understand some of the industrial applications of these amazingly strong and lightweight materials. This workshop includes a lab activity - assembly of a composite part that students will get to take home.

Workshop B - Electronics Concepts with Spintronics - Classroom 11
Join us for the opportunity to understand electronics and computing in a whole new way. Rather than tell you what's happening in a circuit, let us show you with Spintronics. Feel the resistance, feel the pull of voltage, and watch the current flow. This hands-on activity is fun and easy and is an excellent way to learn engineering concepts!

Workshop C - DroneTech World of Drones - Classroom 9
Experience the exciting world of Drones! Did you know that drones are no longer just used for recreation? More and more, we are finding ways that drones can be of use to us and make life easier. In DroneTech World of Drones, learn how drones in the air, on the land, and in the sea are helping our lives and the world around us. Work with your team to design a drone that will help solve a problem, meet a critical need, or expand what is possible.

Workshop D - A Day in the Life of an Aviation Maintenance Technician (AMT) - Classroom 8
Curious what an AMT does on a typical day? Join us to see for yourself! Learn about jobs and current salaries in our area and around the United States. Learn what the expectations are of students in the Northland AMT program and in the workforce. This session will wrap up with a Q&A and an overview of how a turbine engine works, including an explanation of the differences between turbine and reciprocating aircraft engines.

Workshop E - Discover Northland Aerospace I - Think Autonomous - UAS Hangar
Do you think you have what it takes to be a technician for autonomous systems? We do! Dive into the world of virtual reality and fly a racing drone. Take control of a land robot. Test your flight skills by flying a drone through the Aerial Drone Competition course. Learn how all these activities directly tie to programs that Northland Aerospace has to offer.

Workshop F - Discover Northland Aerospace II - Swenson Hangar
Come on in and discover what Northland Aerospace campus has to offer. Our 86,000 square foot facility features a state-of-the-art hangar, housing over 20 aircraft including a DC-9 that was owned and donated by the Detroit Pistons NBA team! Hop inside the cockpit of an aircraft, become an AMT student through a hands-on activities, such as riveting, sheet metal, sim welder, and sim painter.

Workshop G - Learning to Solder - Build a Bug - Classroom 12
Are you interested in soldering but don't know how to get started? We can teach you! This hands-on lesson is made even more impactful with a soldering board that lights up to signify how much light is getting to the photosensor. With this new-found skill, you can begin the path towards careers in jewelry, electronics, air conditioning and heating, sheet metal work, and much more!

Workshop H - Real Flight and Flight Simulators - Classroom 5-6
DETAILS COMING SOON

Workshop I - STEAM Electrical and Automation - Classroom 28
Are you interested in electronics and automation? If so, this is the class for you! Students will be able to choose from multiple activities such as working with Arduino, programmable logic controllers, configuring networks, and learning how to operate a skillboss.

Workshop J - Discover Industrial Design - Classroom 31
How companies bring a product or vehicle to life. Do you like to be creative? Do you like problem solving? Are you interested in a job that has opportunities in your hometown and all over the world? In this intro, we look at how companies (such as Dyson, Arctic Cat, Polaris, Lamborghini, Apple and Coca Cola) use the creative process and industrial design to set themselves apart to create great products that we interact with every day. Students will be guided through the initial steps of bringing an idea to life through sketching, clay modeling, and physical model making.


Would you like to explore exciting STEM careers? New this year to Experience Northland is our Mini Career Fair! We are pleased to welcome area companies with a variety of STEM careers available, including designing aircraft, maintaining drones, flight instruction, and much more!


Digi Key
Digi-Key is an electronic component distributor quickly reaching the top of the global ladder with a variety of career opportunities. For more career information visit Digi Key Careers


Northrop Grumman
Northrop Grumman is a global technology company with careers in designing aircraft, digital tech, or even building spacecraft. For more career information visit Northrop Grumman Careers


Cirrus Aircraft
Cirrus Aircraft is an aviation company with careers in flight instruction, A&P mechanics, and aircraft production, constructing world-renowned aircraft. For more career information visit Cirrus Aircraft Careers
Fargo Jet Center
Bismark Aero Center
UND Aerospace
Experience Northland Aerospace workshops will kick-off at 9:00AM and run until 2:00PM. We ask that you arrive at least 15-30 minutes prior to the activity start-time to allow enough time for check-in.

Example Schedule for a Full-day of Activities:
8:30 - 9:00  Registration/Career Fair
9:10 - 10:00  Class 1
10:00 - 10:10  Class Transfer
10:10 - 11:00  Class 2
11:00 - 12:00  Lunch/Career Fair
12:10 - 1:00  Class 3
1:00 - 1:10  Class Transfer
1:10 - 2:00  Class 4
2:00 - 2:30  Career Fair


This schedule shows an example of a school/student who participates in a full-day of workshops. Participation in all workshops is not required. If your school/student can only participate in one workshop throughout the day, simply register for that hour/workshop only.

We ask that if you plan to bring a group of students, each student should be registered for a workshop during each 50-minute block during the time they are present. We want to ensure all students who attend are also participating in the workshops.
Registration will be open until November 15th or until the classes are full.

Individual registrations may be done by clicking the Online Registration link.    Class/Bulk registration may be done on the Group Registration link. Please download the PDF, complete it, and email it back to NCAT@northlandcollege.edu.

If you have questions about Class/Bulk registration, please contact Megan.Hall@NorthlandCollege.edu. 




Northland Aerospace
13892 Airport Drive
Thief River Falls, MN 56701

Park in the East Parking Lot (next to the highway) and use the East Entrance.

In case you didn't know - Northland Community and Technical College has multiple locations! This event is NOT at the main Thief River Falls campus off Highway One. Northland Aerospace is located next to the Thief River Falls Regional Airport.
If you need accommodations to attend this event, please contact us as soon as possible.

Megan Hall
Office Administrative Specialist| NCAT
(218) 683-8826
megan.hall@northlandcollege.edu