Introduction to Unmanned Aerial Systems
Introduces unmanned aerial systems (drones), including applications, safety, maintenance, mission planning and flying, and data acquisition (still images and video).
Measurable Course Objectives and Minimum Standards:
1. Student will discuss the history of small unmanned aerials systems (sUAS).
2. Student will identify the different classes of sUAS systems.
3. Student will discuss the legal aspects of sUAS operations and the associated FAA (FederalAviation Administration) regulations.
4. Student will describe the type of sensors and applications that can be accomplished withsUAS.
5. Student will discuss mission planning and control and recovery systems.
6. Student will identify safety concerns for safe sUAS operations.
7. Student will describe the basic flight operations for multi-rotor and fixed-wing sUAS aircraft.
8. Student will demonstrate flight skills outdoors with a sUAS.
9. Student will capture still or video imagery while operating a drone.
10. Student will operate and program a drone equipped with a variety of sensors, including GPS(Global Positioning Systems), video, and still photography.
11. Student will describe post-processing techniques to obtain the desired outcome for an imageor video.
12. Student will describe the variety of payloads that are associated with drones.
13. Student will discuss the basic maintenance of drones, including batteries, rotors, andpropellers.
14. Student will demonstrate how to prepare a drone for flight.
15. Student will discuss various software products and apps used for data collection and analysis.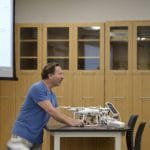 Ken Yanow is the Director of the Drone Technology and Applications program at Southwestern College.