The National Center for Autonomous Technologies (NCAT) and Northland Community and Technical College hosted two Aerial Drone Competition tournaments in the fall/winter of 2022. NCAT and Northland have supported the REC Aerial Drone Competition since 2019.
The Aerial Drone Competition, created for secondary-aged students, offers an exciting educational drone sporting event that focuses on hands-on, student-centered learning. Teams learn about drones, flight principles, programming, documentation, and communication skills while expanding their understanding and building interest for Drone-related workforce and career opportunities.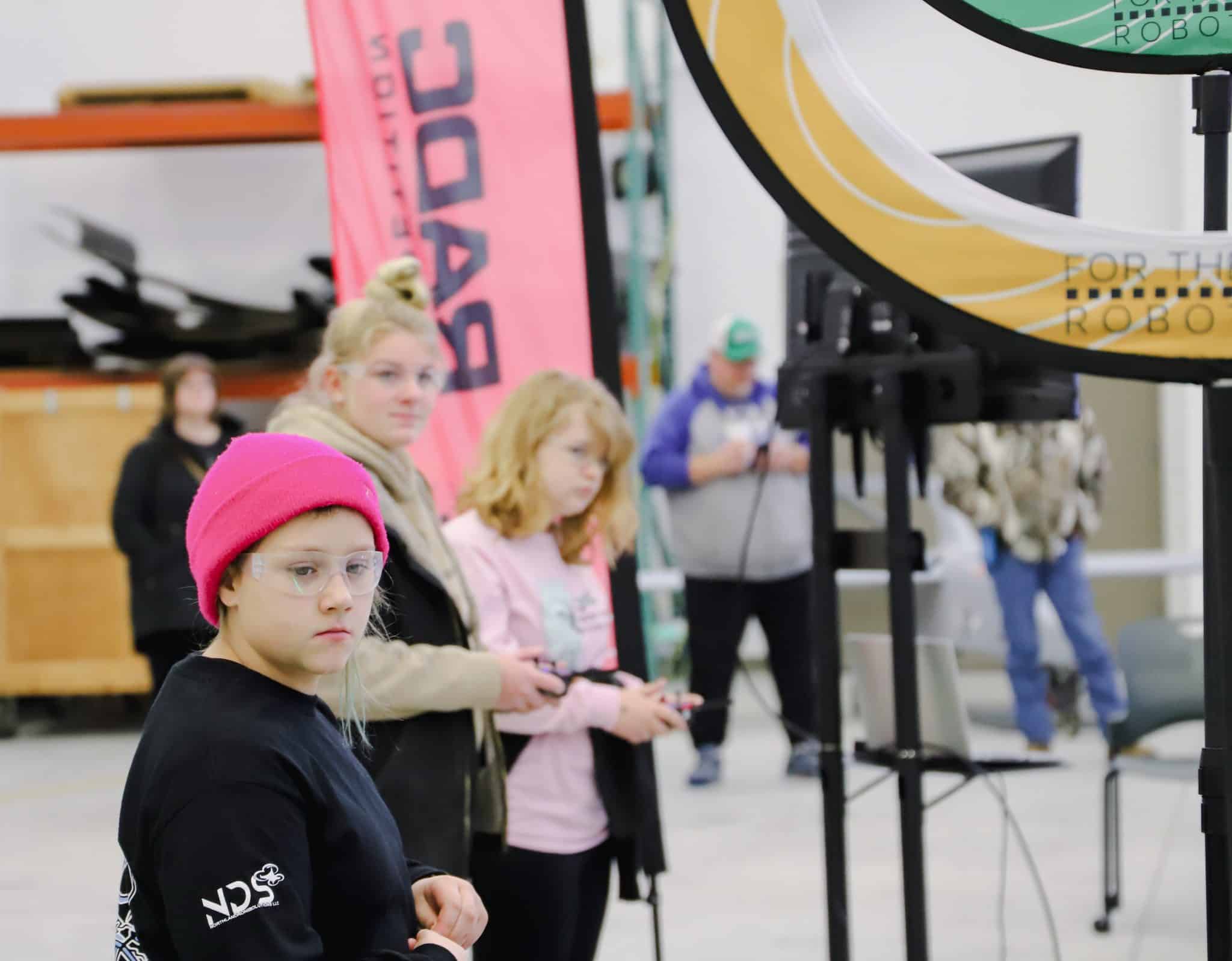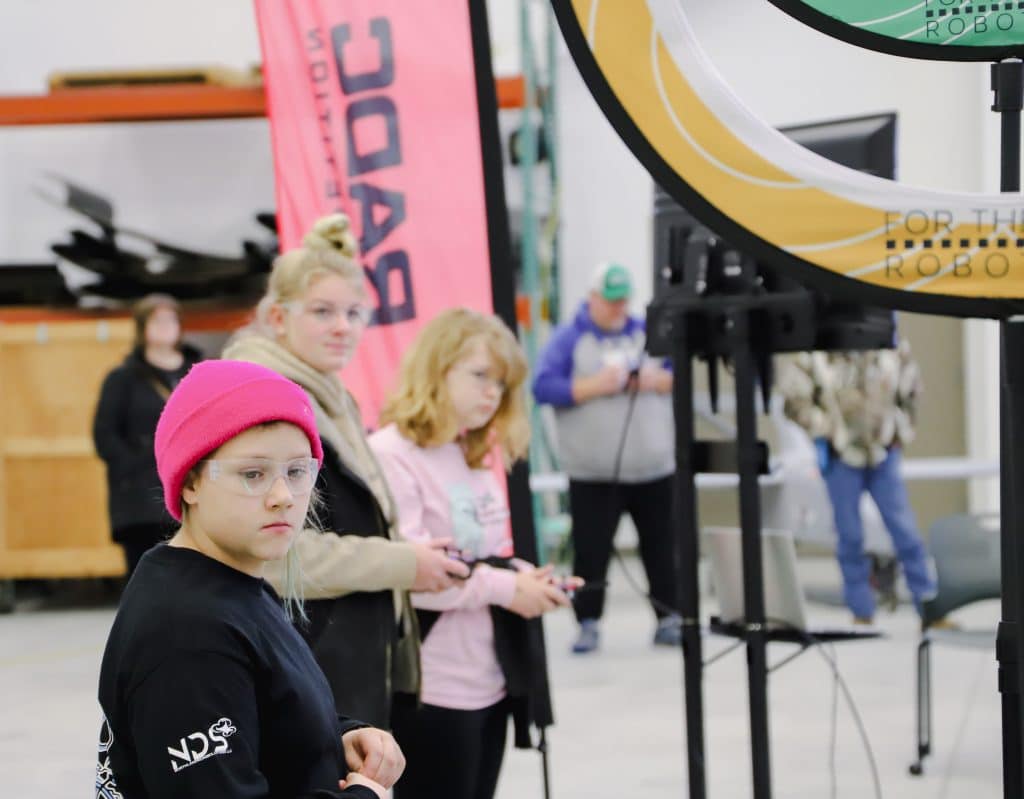 Each year, the competition mission and game field changes, creating new challenges for teams to overcome. Mission 2023: Blackout brought forth a unique combination of teamwork and problem-solving. Played on a 24'x24' square field, the competition consists of two specific matches – a Piloting Teamwork Match and an Autonomous Flight Skills match. Teams must use the Parrot Mambo or CoDrone EDU as their stock drone. Both drone options are available for schools to loan through the NCAT Lending Library.
The Piloting Teamwork Match consists of two alliances – one red and one blue, made up of two teams each – compete in a 2-minute pilot-operated match. The object of the Piloting Teamwork Match is to attain a higher score than the opposing alliance by owning goals, scoring bonus balls, and ending the match on a landing pad or in the alliance blackout zone (an area that is 100% non-visible to the drone pilot).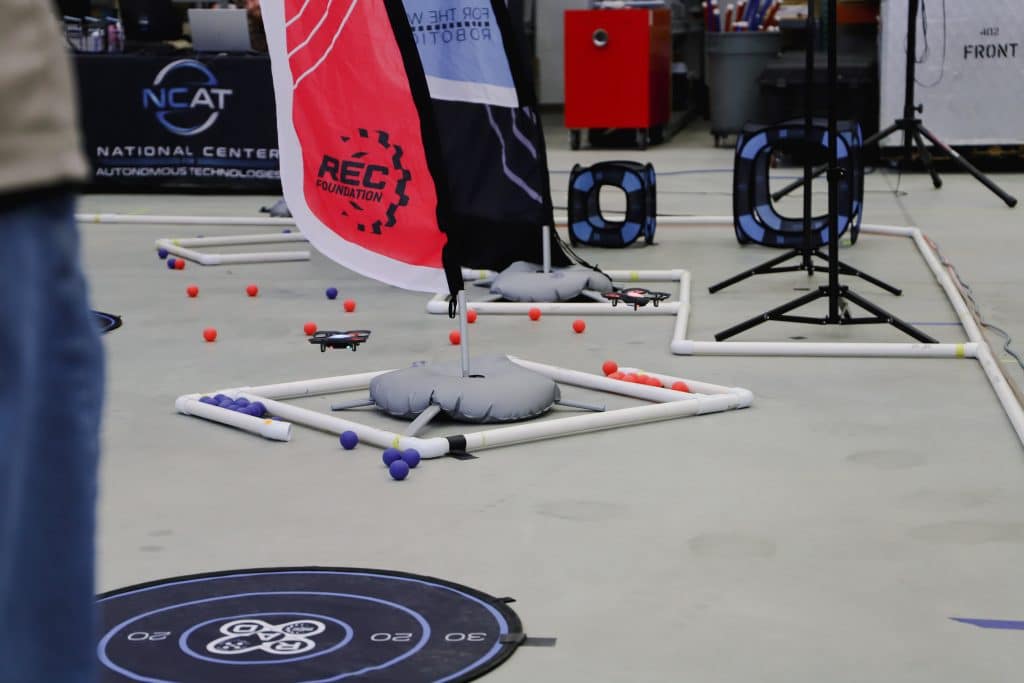 In an Autonomous Flight Skills match, a single team has 60 seconds of autonomous drone operation to score points by lifting off, navigating through arch and keyhole gates, removing balls from the starting lane, and ending the match on a landing pad or in the alliance blackout zone. All drone commands are pre-coded by the team, with no pilots allowed.
The Aerial Drone Competition is a student-centered program. Adults may assist students in urgent situations, but adults may never work on a program or a drone without students on that team being present and actively participating. Students must be prepared to demonstrate an active understanding of their drone and programming to judges or event staff.
The first competition was held on November 2 with a total of seven teams from the local area competing. The second competition was held on December 17, giving the teams who competed in the earlier competition time to continue improving their skills, and for additional teams to join in. The second tournament brought ten total teams, adding three local Thief River Falls teams, one of which consisted of an eager group of elementary aged students.
The winning Tournament Champions and Autonomous Flight Champions from each competition will move forward to the Regional Competition. There are a total of four Champion Events for the teams to choose from.
Heading to the Championships are the following teams:
3277A ProDigi – Thief River Falls, MN
4149D Iron Chargers – Grygla, MN
4149F Iron Chargers – Grygla, MN
5450Z Freeze Frame Z – Marshall County, MN
5450W Freeze Frame W – Marshall County, MN
56760Z Get Wreck'd – Viking, MN
Interested in learning more about what it takes to start your own team? This webinar covers:
Coaches Expectations and Roles
Developing your Team
Aerial Drone Competition Events
Competition Logbook
Equipment Needs and Costs
Season Dates and Registration Details
Q&A
To check out pictures from the competition, check out our Flickr account.
#OMGDrones #ThinkAutonomous #AerialDroneCompetition #DronesinSchool