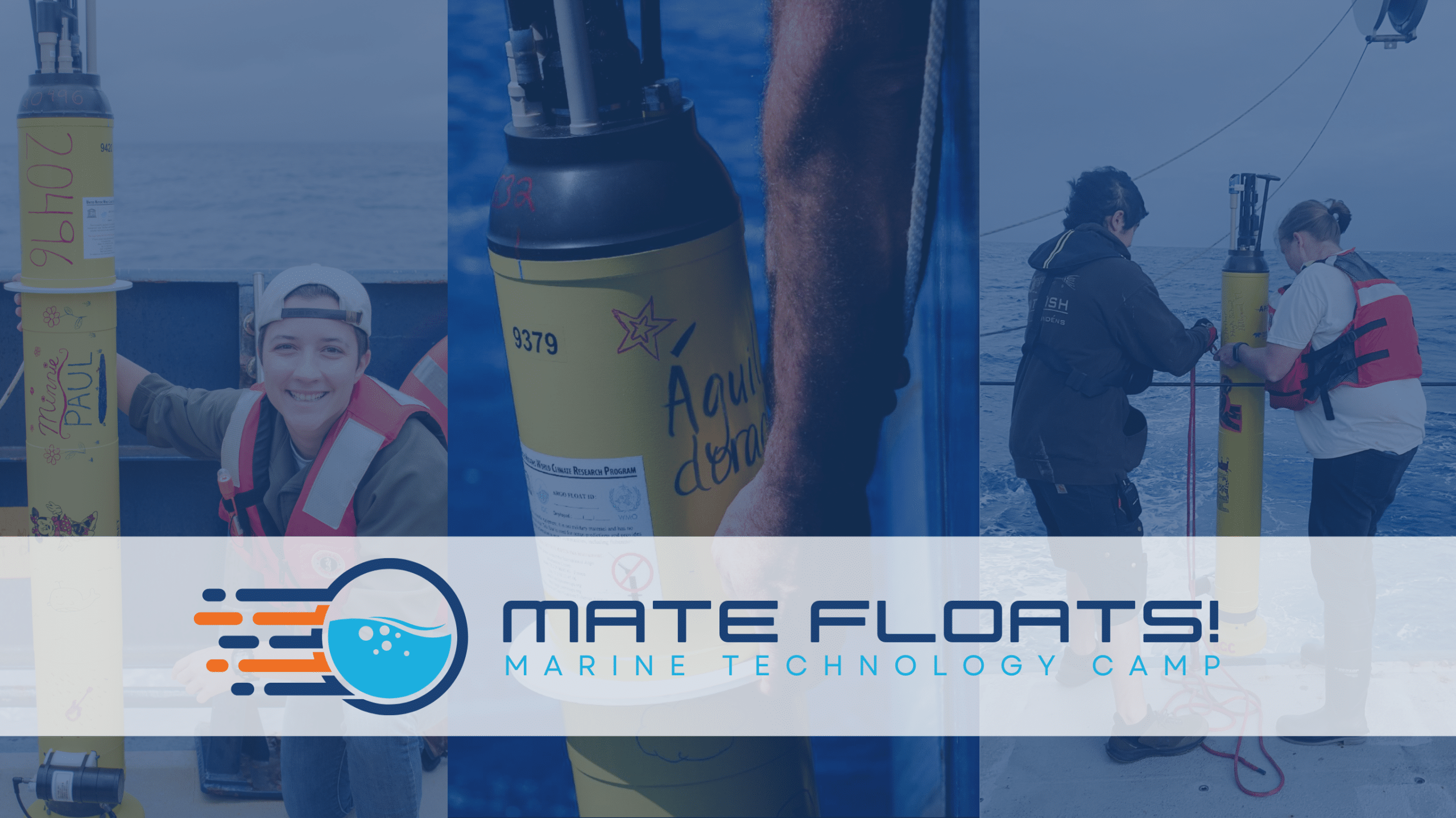 NCAT and its maritime partners are offering a Marine Technology Summer Camp experience for undergraduate and high school students. This 5-day camp is being hosted at the University of Washington (UW) and will focus on Global Ocean Biogeochemical (GO-BGC) float technology.

MATE FLOATS! - Marine Technology Camp is taught by UW School of Oceanography Float Engineer Rick Rupan with assistance from UW undergraduate students. During this camp, students will have the opportunity to sail on board the UW R/V Rachel Carson. A detailed camp schedule with activities and learning objectives will be provided later this spring.
Who
The target audience is students attending two-year community and technical colleges in the U.S., but four-year university students and high school seniors are welcome to apply. Special consideration will be given to students who effectively demonstrate how they contribute to the diversity of the cohort of camp participants.

When
August 21 - 25, 2023

Where
University of Washington
Seattle, WA 98195 | USA
Link to Google Maps location information.

Why
The goal of the MATE FLOATS! Summer Camp is to provide students with:
1 ) the opportunity to learn about and experience marine technologies first-hand and
2 ) to develop and build upon the skills they will need for success in the technical workplace.
The application has closed for the 2023 MATE Floats! Summer Camp! Please check back next spring to apply for the 2024 summer offering.
There will be minimal costs to the participants. Student travel, housing on the UW campus, and most meals are being covered by NCAT. Ship time on board the R/V Rachel Carson is being covered by the GO-BGC project.
National Center for Autonomous Technologies
NCAT is funded through the National Science Foundation Advanced Technological Education program. NCAT leads the education of the nation's Autonomous Technologies workforce through a concerted effort which focuses on expanding educational resources, developing career pathways, and engaging with stakeholders from education, industry, and government.

Global Ocean Biogeochemistry Array
GO-BGC is funded by the US National Science Foundation to build a global network of chemical and biological sensors that will monitor ocean health. Through this grant, scientists build and deploy 500 robotic ocean-monitoring floats around the globe as part of NSF's Min-scale Research Infrastructure-2 program.

MATE Inspiration for Innovation
MATE II, a non-profit educational organization, inspires and challenges students to learn and creatively apply scientific, engineering, and technical skills to solve real-world problems and strengthen their critical thinking, collaboration, entrepreneurship, and innovation through the MATE ROV Competition.

Marine Technology Society
The Marine Technology Society promotes awareness, understanding, and the advancement and application of marine technology. Incorporated in 1963, the international society brings together business, institutions, professionals, academics, and students who are ocean engineers, technologists, policy makers, and educators.

University of Washington
The University of Washington's College of the Environment bridges the divide between scientific disciplines, stakeholders and societies, policymakers and the public. By connecting some of the world's leading educators and researchers with students, practitioners and citizens, UW Environment cultivates communities who work with and learn more each other as they confront the environmental challenges of the 21st century.