Introduction to Remote Sensing
Introduces fundamental concepts of electromagnetic radiation and its interactions with various media. Explores commonly used sensors and techniques of remote sensing.
Measurable Course Objectives and Minimum Standards:
1. Student will analyze and describe fundamental principles of electromagnetic radiation.
2. Student will analyze and assess interaction of radiation with various media, including surfaces.
3. Student will describe and use principles of radiative transfer.
4. Student will examine and explain principles of electro-optical systems.
5. Student will compare and contrast microwave systems.
6. Student will appraise and evaluate scattering systems.
7. Student will identify and examine a variety of remote sensing platforms.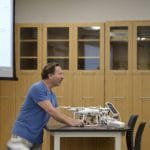 Ken Yanow is the Director of the Drone Technology and Applications program at Southwestern College.